12 Christmas Gift Ideas for Bilingual Children and Families
Christmas is coming! No, you can't hide under your duvet, sorry. Do you have some young language learners on your present list? I have compiled a list of our favourite 12 Christmas Gift ideas for bilingual children and families. This should make your shopping decisions easier.
This post does not contain any affiliate links, these are products and companies we genuinely love at Lil'ollo HQ. I hope you do too.
Alex xx
12 Christmas Gift Ideas for Bilingual Children and Families
(1) Arabicouples from Daradam
Daradam is a French publishing house that creates beautiful, high quality Arabic educational games. We love the Arabicouples game – this allows children (and their grown-ups) to discover the 22 countries of the Arab League and their different traditional clothing. The goal is to finish your cards quickly – look out for the 'Scorpion'!

(2) Uncle Goose Language Blocks
Uncle Goose creates gorgeous wooden blocks in 25 different languages – these are perfect for counting, spelling, building and playing all manner of games. Uncle Goose blocks are available in Arabic, Chinese, Cherokee, Danish, Dutch, French, German, Greek, Hebrew, Hindi, Italian, Japanese, Korean, Māori, Norwegian, Persian, Polish, Portuguese, Russian, Spanish, Swahili, Swedish, Thai, Ukrainian and Vietnamese.

(3) A Story Box subscription from One Third Stories
One Third Stories create beautiful and engaging books that start in English, gradually words and sentences in a second language (currently French, Spanish, Italian or German) are introduced throughout the story. One Third Stories books come in story boxes with flashcards, activities and games, and are delivered through your door every month. You can pay month to month, or buy a six or 12 month subscription – perfect for Christmas.
(4) Hai! Hiragana 
Hai! Hiragana works by turning Japanese into creative illustrations of familiar and useful words. It's a bit like 'A is for Apple' but they've made all the words Japanese to better introduce you to the language. So instead you get 'Ri is for Ringo' (Apple!). The flashcards have lovely illustrations that are all linked to the language character you are learning, making it really easy to remember and lovely to look at!
(5) Membership to the Cultured Home from The Cultured Kid 
The Cultured Home is an amazing language learning programme from The Cultured Kid, available in French, Spanish, Italian, German, English and Mandarin. Join on a monthly basis or an annual membership (a perfect Christmas present) and receive weekly lessons including immersive vocabulary videos, play-based lesson plans, topical vocabulary flashcards, age appropriate activity sheets, workshops, songs, books and more.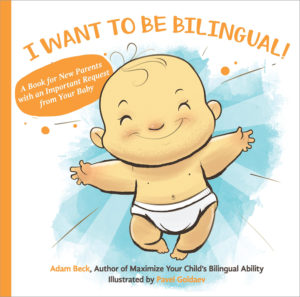 (6) I WANT TO BE BILINGUAL! 
I WANT TO BE BILINGUAL Is the latest book by Adam Beck, creator of the much-loved Bilingual Monkeys  website and author of the popular guide Maximise Your Child's Bilingual Ability. I WANT TO BE BILINGUAL is a unique "picture book for adults" with delightful illustrations by Pavel Goldaev. Narrated by a lively baby, the book emphasises the most important information parents need for realising joyful success on a bilingual or multilingual journey. This is a perfect gift for bilingual families, and although it is a book for grown-ups, the children at Lil'ollo HQ love to read it too!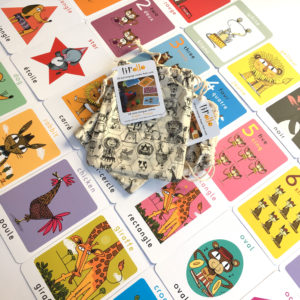 (7) Lil'ollo Bilingual Flashcards
Lil'ollo Flashcards are available in four different designs (colours, shapes, numbers and colours) and illustrated with our signature animals, all designed to aid language learning. Choose from English with either Traditional and Simplified Chinese, Spanish, Italian, French, German, Welsh, Polish and Dutch. If you buy a bundle, you also receive unlimited colouring with our printable animal numbers colouring pack, and our extended games guide with 20 ideas for games to play with your flashcards. The bundle comes in a presentation box, perfect for gifting.
(8) Tim Tim Tom Books
Tim Tim Tom create gorgeous, personalised bilingual books in your choice of any two of the following languages: Dutch, English, French, German, Italian, Portuguese, Russian, Spanish and Chinese (Simplified or Traditional). You can also personalise the book with your child's name and their appearance, with gender, skin type and eye colour, hair colour and hair style.
(9) Babel Babies Sing Languages Together CD
The Babel Babies online stop is full of lovely language learning products (if we do say so ourselves! Lil'ollo is available there too :-D) including some fabulous CDs with songs in German, Arabic, Italian, Portuguese, Spanish, French, Norwegian, Russian and some brilliant multilingual ones too. Perfect for singing along at home or in the car.
(10) Booklandia Box
Booklandia source their inclusive, beautiful Spanish and bilingual book collection from publishers in Latin America, Spain and the US. Different book boxes are available for different ages and abilities, and available on one-time, monthly, bi-monthly and quarterly subscriptions. Booklandia also have an extensive section of new-releases in 'la tienda' section of the site. If you are buying for a Spanish learner, I challenge you not to find something perfect here!
(11) Mamma Prada T-shirts
I fell in love with Mamma Prada's 'Lupo' T-shirt as soon as I saw it! She has created a great collection of Italian slogan T-shirts and bilingual clothing, available in her Etsy store. All the clothes we buy from Italy are covered in English slogans so I particularly love these!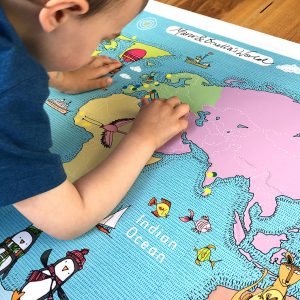 (12) Personalised world map from Lil'ollo 
If you are a bilingual family, or learning languages at home, I can guarantee that a) you have some family roots in different countries and/ or b) you are interested in learning about the world. I created the Lil'ollo personalised world maps to help my children connect with their diverse family story, and foster an interest in learning about the world from a young age. It comes with coloured stickers and a key to personalise (with any language you like!).